[email protected]
! Every weekend over the summer there will be activities and events for the whole family.  Check out the schedule below for what's happening. Let the fun begin!
* Pre-registration is required at www.beulahcamp.com
** Pre-registration may be required due to COVID-19 regulations. An announcement will be made on the BCCC website Notice board www.beulahcamp.com and on the Beulah Chat Central Facebook group.
For event inquiries please email: [email protected]
Event Registration
Summer 2021
August
1 Sunday
10:30 AM Service @ Tabernacle**
Speaker – Dr. H.C. Wilson
Worship – Kingswood University
1 – 4 PM Tubing @ Beach
2 Monday
12:30 – 4 PM Woman's Crafts** @ Hotel
2 – 3 PM Family Activities @ Ball Field
6:30 – 7:30 PM Pickleball @ Basketball Court
3 Tuesday
8 – 9 AM Prayer Walk** @ Office
1 – 4 PM BAC-Yard Coffee House
4 Wednesday
12 – 1 PM Family Picnic @ Ball Field
6:30 – 7:30 PM Washer Toss @ Kindron Cresent
5 Thursday
7 – 8 AM Walk the Loop @ Office
6 Friday
1 – 4 PM BAC-Yard Coffee House
1 – 4 PM Tubing @ Beach
7 – 8 PM Prayer Walk** @ Office
7 Saturday
9 AM Pickleball Tournament @ Basketball Court
1 – 4 PM Tubing @ Beach
2 PM Ice Cream Truck
2 – 3 PM Bleach Dye T-shirts @ Ball Field
7 – 9 PM BAC-Yard Concert Series** – Paul Blair
8 Sunday
10:30 AM Service @ Tabernacle**
Speaker – Rev. Tanya Nace
Worship – David Green
1 – 4 PM Tubing @ Beach
9 Monday
12:30 – 4 PM Woman's Crafts** @ Hotel
6:30 – 7:30 PM Pickleball @ Basketball Court
10 Tuesday
8 – 9 AM Prayer Walk** @ Office
1 – 4 PM BAC-Yard Coffee House
11 Wednesday
6:30 – 7:30 PM Washer Toss @ Kindron Cresent
12 Thursday
7 – 8 AM Walk the Loop @ Office
13 Friday
1 – 4 PM BAC-Yard Coffee House
1 – 4 PM Tubing @ Beach
7 – 8 PM Prayer Walk** @ Office
14 Saturday
7 – 8 PM Saturday Breakfast* @ Hotel
8 AM – 4 PM EB Coffee Truck
10 AM Kids Story Time @ Central Area
1 – 4 PM Tubing @ Beach
1 – 3 PM Carnival* @ Ball Field
2 PM Ice Cream Truck
2 – 4 PM Live Music
5 – 7 PM Food Trucks
6 – 8 PM Desserts by Sandra @ Hotel
6:30 – 8:30 PM Live Music – Higher Ground
15 Sunday
10:30 AM Service @ Tabernacle**
Speaker – Rev. Mel Norton
Worship – Moncton Wesleyan
1 – 4 PM Tubing @ Beach
16 Monday
12:30 – 4 PM Woman's Crafts** @ Hotel
6:30 – 7:30 PM Pickleball @ Basketball Court
17 Tuesday
8 – 9 AM Prayer Walk** @ Office
1 – 4 PM BAC-Yard Coffee House
18 Wednesday
12 – 1 PM Family Picnic @ Ball Field
6:30 – 7:30 PM Washer Toss @ Kindron Cresent
19 Thursday
7 – 8 AM Walk the Loop @ Office
20 Friday
1 – 4 PM BAC-Yard Coffee House
1 – 4 PM Tubing @ Beach
7 – 8 PM Prayer Walk** @ Office
21 Saturday
10 – 11 AM Disc Golf
12 – 4 PM Ceramics with Amy*
1 – 4 PM Tubing @ Beach
1 – 3 PM Pickleball Tournament @ Basketball Court
2 PM Ice Cream Truck
5 – 6 PM Walking Tacos @ Hotel
6 – 7 PM Washer Toss Tournament
7 – 9 PM Beulah's Got Talent**
22 Sunday
10:30 AM Service @ Tabernacle**
Speaker – Rev. John Symonds
Worship – Kingswood University
1 – 4 PM Tubing @ Beach
23 Monday
12:30 – 4 PM Woman's Crafts** @ Hotel
6:30 – 7:30 PM Pickleball @ Basketball Court
24 Tuesday
8 – 9 AM Prayer Walk** @ Office
1 – 4 PM BAC-Yard Coffee House
25 Wednesday
6:30 – 7:30 PM Washer Toss @ Kindron Cresent
26 Thursday
7 – 8 AM Walk the Loop @ Office
27 Friday
1 – 4 PM BAC-Yard Coffee House
1 – 4 PM Tubing @ Beach
7 – 8 PM Prayer Walk** @ Office
28 Saturday
8 AM – 2 PM Riverview Craft Market
8 AM – 4 PM EB Coffee Truck
9 – 11 AM Kayak Clinics* @ Beach
10 AM Kids Story Time @ Central Area
12 – 4 PM Live Music – Carl O'Donnell
2 PM Ice Cream Truck
2 – 4 PM Desserts by Sandra @ Hotel
5 – 7 PM Food Trucks
9:30 – 10:30 PM Fireworks @ Beach
29 Sunday
10:30 AM Service @ Tabernacle**
Speaker – Rev. Sharon Guptill
Worship – Gloryland Way
30 Monday
12:30 – 4 PM Woman's Crafts** @ Hotel
6:30 – 7:30 PM Pickleball @ Basketball Court
31 Tuesday 8 – 9 AM Prayer Walk** @ Office
September
5 Sunday
10:30 AM Service @ Tabernacle**
Speaker – Rev. Peter Moore
Worship – David Green
Schedule is subject to change. For most recent information please use the above schedule not the PDF's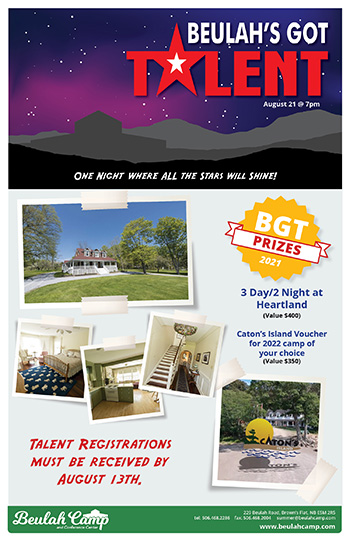 Schedule Subject to Change