For the Family
Family Event: The Scavenger Hunt – Tuesday, July 11, 1:30pm
This Scavenger hunt is on foot and teams must have at least one child under 12.  Follow the directions and see who completes the course first. There are prizes.
Mom & Me: Under the Sea – Wednesday, July 12, 1:30-3:00pm
Come explore and craft your own Beach Bag. This is an opportunity for Mothers (Grandmothers) and child to share a fun experience crafting and learning. Cost is $5 per project. Registration is required.
Dad and Me: Washer Toss – Wednesday July 12, 3:30-5:00pm
Come make your own washer toss game. This is a hands-on project to do with Dad (Granddad) and child using tools and developing skills. All generations are welcome. Cost is $5 per project. Registration is required.
Annual Egg Scramble – Thursday, July 13, 1:30 and 4:00pm
Search for eggs hidden in a designated area. Please note separate hunt times by age on schedule. Bring your own bag. No registration required.
Design a Pillowcase – Thursday, July 13, 2:00-3:30pm
Create your Beulah 2023 keepsake. Recommended for ages 4 and up. Parent supervision is required for children under 8. Cost is $5 per project. Supplies are limited, be sure to register.
Grandpa/Grandma & Me – Friday, July 14, 2:00pm
Here is a time to share memories with Grandkids. We will be creating a family portrait using beach stones. Cost of each project is $5 per project. Registration is required.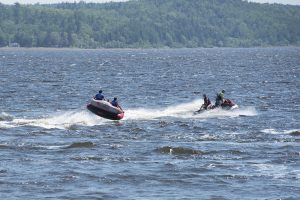 For Kids and Teens
Super Saturday for Teens – Saturday, July 8
There are four exciting and fun youth events happing on Super Saturday. Lone Wolf Dodgeball (10:00-10:30), Swamp Bear Art (11:00am-1:00pm), Field Games (1:30-3:00pm), Tubing (1:00-4:00pm). Be sure not to miss these fun events!
Tubing – Saturday/Sunday/Monday/Wednesday/Friday/Saturday, 2:00-4:00pm
Experience a thrilling ride on the mighty Saint John River. Rides are offered on a first-come, first-served basis, so don't delay! Life jackets provided. Pending availability.
Jr. VBS:  Let's Go Heroes! – Monday-Friday, 10:15am to Noon
Come be a superhero as we discover that we can be just like the heroes in God's Super Book, the Bible! Each day we will train to be superheroes as we learn about a new Bible hero. We will see that God has given each of these heroes (and us!) a superpower – like the superpower to share – all while playing, singing, dancing, snacking, and crafting. Oh, and we might have to fight a villain, too. He has a cape and rides a motorcycle. No big deal. We've got this. Let's Go, Heroes! Register Now.
VBS: Godzwerkus Circus School – Monday-Friday, 10:15am to Noon
Ladies and gentlemen, boys and girls, welcome to Godzwerkus Circus School!  Step right up and join us under the big top for the most extraordinary week of your summer.  We will learn how God used the most unlikely and ordinary people in the Bible to accomplish His amazing purposes.   As circus performers-in-training, we will learn how God continues to use us to accomplish His purposes and how with Him all things are possible!  See you under the big top! Register Now.
Youth Track – Monday-Friday, 10:30am
We are looking forward to the 2023 Beulah Youth Track!  We will have engaging worship and bible study time in our morning services lead by Kingwood University. There will be action packed games in some of our afternoons and evenings, as well as deep connection times where teens can hang out, connect with leaders and have important conversations about the things that matter most. Hope to see you there! Register Now.
Special Interest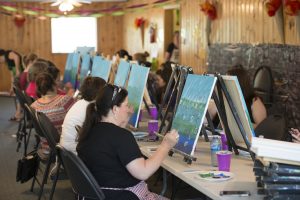 Walking the Loop – Monday-Friday, 7:00am
Start the day off right with a little exercise and a lot of fun walking the Beulah Loop. Gather at the Heritage Hall veranda for a 7:00am departure if you wish to walk with others.
Ladies Event: Painting with Amanda – Monday, July 10, 1:30-4:30pm
Amanda Forgrave from Your Design is back to offer her wildly popular painting event.  You will be led in a 3 hour painting tutorial. Walk away with a complete 16"x20" work of art. Cost is $30 which includes all materials. Space is limited. Registration is required.
Great "Golf Cart" Scavenger Hunt – Tuesday, July 11, 4:00pm
The race is on! Grab a team, jump on your golf cart and get ready to scour the campground to answer the question. Be one of the first teams back having completed. NB rules of the road apply for golf cart use.
Mixed Golfing – Tuesday, July 11, 1:00pm
The Beulah Open Golf Event is back again for another fun-filled, relaxing, and team-building tournament at the Welsford Golf Club. Tee times will run from 1:00pm-2:30pm with a pre-game BBQ starting at 12:15pm. Lots of friendly competition and prizes await! Cost is $30 per person green fee. Golf carts are not included and must be reserved ahead of time. Format is 2-man scramble, playing the best of each shot from your team. Registration is required.
Gatherings
Morning Prayer Gathering – Daily, 7:00am
Be anxious for nothing, but in everything by prayer and supplication with thanksgiving let your requests be made known to God. – Philippians 4:6 Come and join us for corporate and personal prayer time in the Tabernacle each morning.
GP/WWF Alumni Event – Sunday, July 9, 8:00pm
All missionaries are invited to a time of fellowship in the Upper Room as we hear from past, present, and future missionaries. Dessert, coffee, and tea will be served.
Children's Ministry Huddle – Tuesday, July 11, 1:00–3:00pm
Join us in the Upper Room for encouragement and connection with other Children's Ministry leaders. We will have a free resource table, so please bring any resources you would like to pass on.
Keeping the Fires of Generational Faith Burning – Saturday, July 15, 7:15am
Enjoy a great time of fellowship over a delicious breakfast on Caton's Island, topped with Dean's private stock of maple syrup. Asst. DS Scott Prime, his son Samuel and his father-in-law Fred Whittey will be speaking at this men's breakfast. Transportation to the Island leaves the landing at 7:15 and 7:30 am. Don't be late!
Raising 400 Leaders – Kingswood Learn Workshop
Friday, July 14, 1:30pm in the Tabernacle
Facilitators – Dr. Darren Campbell and Dr. Steve Lennox
This workshop is for all pastors and any layperson that would like to attend.
As our churches embrace the district vision to raise 400 Leaders by 2027, this practical workshop will provide all you need to know about how Kingswood Learn can be an integral resource for your local church to certify leaders being raised for ministry. Lay leaders & pastors are encouraged to attend as you prayerfully engage this opportunity to empower and develop those who will lead in the Acts 1:8 ministry quadrants of the Here, Near, Hard, & Far.
Camp Life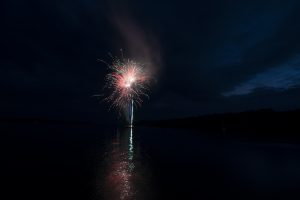 Fireworks at the Beach – Saturday, July 8, 10:00pm
Come one, come all! View a spectacular fireworks display off the barge. You will be wowed at Brian's finale!! Rain date is Saturday, July 15.
Evening on the Boulevard – Wednesday, July 12, After Evening Service
The heart of the campground comes alive with the smells of tasty treats and the sound of laughter and conversation. Join in the fun during Evening-on-the-Boulevard where concession stands will be serving food and treats. Concessions will open AFTER the Benediction of the one-hour 6:30 pm service.
Kings Gate Trail – Everyday
Looking for a spot to take a moment for yourself? Stroll through the Kings Gate Trail. Take a moment to reminisce at the Memory Garden, imagine yourself walking the streets of the Rock Village, play a game of Tic Tac Toe, search for Treasure, look for hidden rocks to rehide or bring your own painted rock to add to the fun. Entrances from Orchard Drive, Emmaus Road or Beulah Road.
Disc Golf – Everyday
Calling experienced and first-time frisbee throwers. A fun family game for all. Discs are avaiable at the first tee of the course.
Mullen Archives and Heritage Center
Stop by to learn more of Beulah's 129-year-old story. Enjoy models of Beulah's historic buildings; explore family connections through pictures and documents from as early as the 1890's; discover how generations of Maritimers have been changed by their time on these grounds; investigate Beulah's impact around the world! There is something for visitors of all ages – including a Treasure Hunt for those under 12.  Bring questions about friends, family, or churches.  If we don't know the answer, we will be glad to find it!
Family Camp Hours: Monday-Friday 1:30-3:00 pm
Summer Hours: Tuesday & Thursday 1:00-3:00 pm or by appointment
(subject to change pending weather)
Special Events
Myths, Mantras, and Mixed Messages: What is God Really Asking of us as Women in the 21st Century Wesleyan Church? – Tuesday, July 11, 2:00pm
Join Us in the Dining Hall for a conversation with Dr. Shirley Mullen, longtime professor and administrator in Christian Higher Education, and – even more importantly – a lifelong daughter of the Atlantic District.
Celebrating a Century of Global Impact of the Atlantic District – Tuesday, July 11, Half hour after evening service
Join us at the steps of the Mullen Archives/Beulah Heritage Center on Tuesday evening where our District Superintendent, Peter Moore, will engage his super powers to do an in-person interview with Rev. Ella Sanders, our District's First Global Ambassador who travelled to South Africa with her family in 1901.
Heritage Walking Tour – Wednesday, July 12, 3:00pm
Take a tour around the grounds and learn some of the fascinating history of Beulah Camp. Hear the stories of the founding families, learn of the events of days gone by, and see the buildings and places that Beulah Camp is built upon. Bring your curiosity and questions for this memorable hour. Tour begins in the Tabernacle with a video documentary.
Kingswood University Alumni Social – Thursday, July 13, After Evening Service
Kingswood University would like to invite all alumni and friends to their annual reception in the greenspace following the Thursday evening service. Enjoy dessert and giveaways during a time of connection with your fellow alums.
Caton's Island Open House – Saturday, July 15, 11:00-4:00pm
Come and experience all that Caton's Island has to offer with swimming, water trampoline, climbing wall, ropes course, zip-lining, and a whole island to explore, the afternoon will fly by. Meet at the Caton's Island Landing for your trip across the river. Dedication of the Dining Hall will be at 2:30pm. Open to all ages.