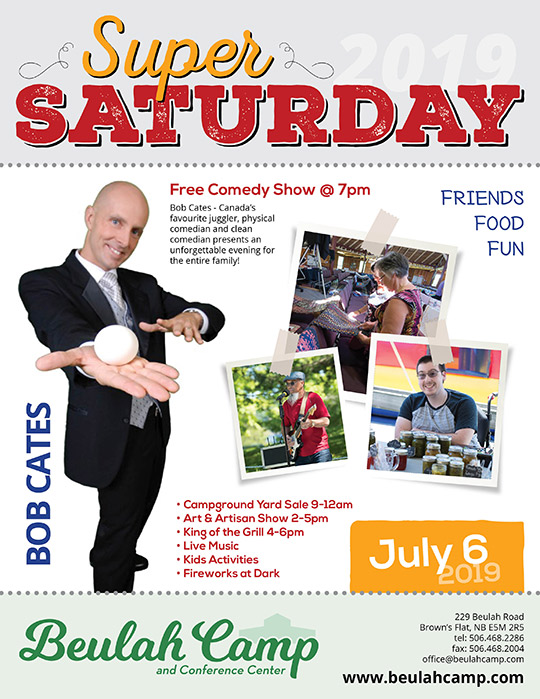 Campground Yard Sale 9am-12pm
Yard sales will be happening throughout the campground. Great opportunity to sell, buy and mingle with your Beulah community. 
Art & Artisan Show 2-5pm
A showcase event featuring artists and artisans from across the District. Stop into the Tabernacle and browse through the exhibits made by the skillful hands of talented people.
Kids Activities 2-4pm
King of the Grill 4-6pm
(Adults: $10, Kids under 12: free with dinner purchase; Meal tickets honored) Enjoy a BBQ Quarter Chicken Dinner served with sides and a cold drink. Free kid's meal of hot dog, chips and drink for kids under 12 with adult dinner purchase. PLUS "Plant City Style" Strawberry Shortcake or Decadent Chocolate Brownie Dessert with ice cream and chocolate sauce is awaiting you.
Comedy Show – Bob Cates  7pm
Canada's favourite juggler, physical variety artist and Christian comedian presents an unforgettable evening for the entire family. A free will offering will be taken.
Fireworks at the Beach 10pm